So a couple weeks back my writers' group had a bulletin board that needed decorating, and me, being the masochist that I am, volunteered caricatures of the members to be put up. We decided to do the core team committee first - which didn't sound so bad initially because there are only four of us anyways. One of the girls created a tagline poster that was very 1950s comic-book feel, so I decided to sketch us four goons in as comic-booky type characters too.
The result, after about 45-60 minutes of inking and half an hour more of frantic colouring before group leader came to pick it up, is certainly...interesting.
We have: The Narnia Queen of snow and ice, for Jan who loves chewing on ice cubes. Gambit, for Jon, who loves staves and blades and who wanted to be Wolverine but the artist had a brain fart and did not have the cool ability to draw that character, alas. Cheryl, who just -begs- for a Disney-style look and so got Kim Possible. And me. As Chun Li. Because I hit things and like explosions. And the paper was way too big for my scanner so I had to break the entire sheet of A3 paper up into two scans.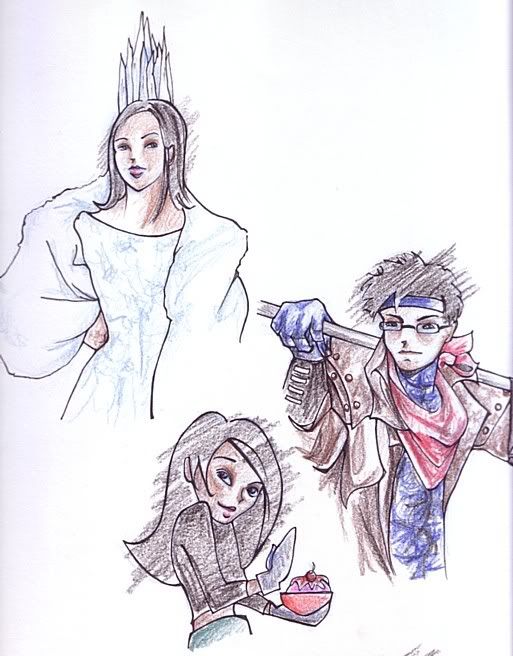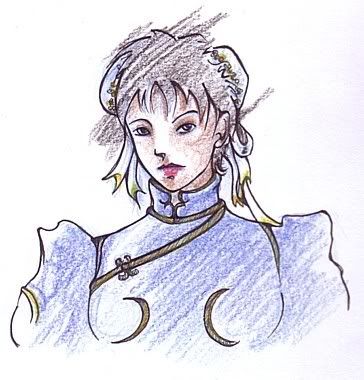 It isn't the BEST something-whatsoever, but I'm happy it's DONE at least. Now to type out the taglines for each character and send it in for someone else to comic-book-script since I don't have time to do it before I leave...
Y'know, I really do like Chun Li, but NOT THOSE STUPID HAIR BUNS!