Meet Miss Fleur, everyone.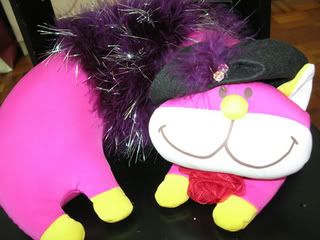 Doesn't she look sweet? Such a lovely shade of in-vogue shocking pink too - Elsa Schiaparelli apparently made that the in-colour in the 1930s! I spent a bit of time putting her outfit together for her lovely escort, who's taking her to his film noir themed university ball tomorrow evening. I'll admit it's the first time I've ever put together a coordinated anything for a pink feline, but I love Fleur and it was -large- amounts of fun. She'll be the belle of the ball, I swear - the flash was a bit bright in the photo but I wanted to catch the purple-and-silver marabou trim I found her. I had feathers all over my room after getting her wrapped up in that, but it was WORTH every bit of it.
Hello everyone, yes, I've been absent forever it seems! This, however, promises to be the eventual fruit of our choir's labours (click on it for the larger view):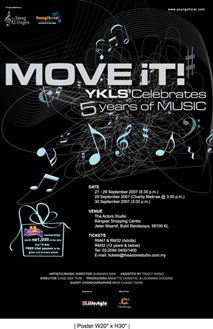 Dates
27th to 29th September 2007 - 8.30pm
29th September 2007 - Charity Matinee, 3.00pm
30th September 2007 - 3.00pm
Venue
The Actors Studio - Bangsar Shopping Centre
Jalan Maarof, Bukit Bandaraya
59100 Kuala Lumpur

Tickets
RM47 (middle seating) & RM32 (side seating) - Adults
RM32 - Children 12 years & below
Tel: 603 2094 0400 / 603 2094 1400
Email: tickets@theactorsstudio.com.my

Celebrity Fitness memberships worth RM1,000 to be won and 14-day FREE trial passes to be given out at every show!
The Young KL Singers turn 5 this year! Anyone who's able (Constance! Can you make it? Would LOVE for you to come!) please come and support, we've worked -really- hard and put together a really great show.
More of a proper update soon - namely, Hell Week next week when we bump into the theatre space properly - but...FLEUR! CONCERT! BUSY!