Some years ago when I was still working in a fibre arts store in VA, I came across a book called the Embroiderer's Floral. It was, as the title states, a treasury of floral designs and techniques for embroiderers. Fascinating book; I regret not buying it. Maybe I might be able to pick it up at Kinokuniya some time...
...though that wasn't quite the point of the post but the lead-in for it. At dinner tonight, a beautiful cozy little place called Paprika Cafe, we were served flowers with our food --sweet peas for my father's chocolate cake, and two lovely unknown blossoms for mine. I've been trying to take one artist's advice and sketch/paint every day. Which means I carry my sketchbook just about anywhere I can fit it into my ragged canvas bag, and a couple Sakura Pigma Microns of varying sizes.
So I yanked out the drawing paraphernalia and sketched away all through dinner. The waiter and my parents were highly amused. The colours of the flowers were so lovely I took them back with me so I could attempt (note the operative word) to paint in the drawings.
Haven't got a scanner here, but will post when I get back to my apartment in two days.
In the meantime, have another Beldame and Dominic sketch: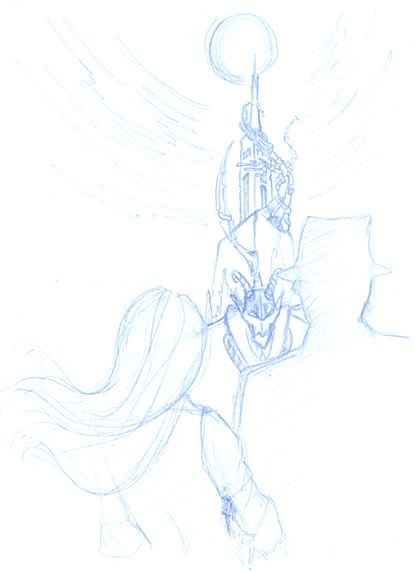 "Nic? Soooooooooo not in Chicago any more."
"I noticed."
It isn't the best sketch, but it's my first time attempting a bloody -building- and since I hate 'em I'm trying to make myself do them.