People watch movies to have fun. People watch movies to relax. I apparently watch movies to sketch.
I finally caught Sweeney Todd on the last day of its showing, and all I have to say is: Theatre graduate + beautifully costumed and made up film + Sondheim = Purrrrrrrrrrrrrrrrrrrrrrrrrrrrrrrrrrrrrrrrrrrrrrrrrrrrrrrr. No more comments necessary, hein?
So of course I had to sketch it. The following were produced in a brief moment of utter insanity in the dark. If you're not convinced that white reflects light, try drawing Sweeney Todd singing 'London' in a dark theatre - trust me, there's light reflected to see a big blob of sketchbook if you keep one eye on the screen and another obliquely on the paper. Notice I didn't promise they'd be GOOD.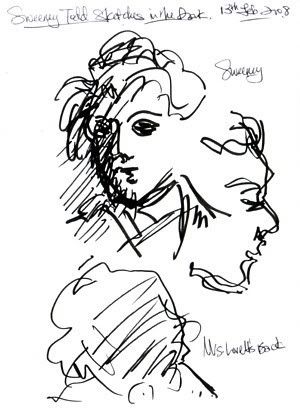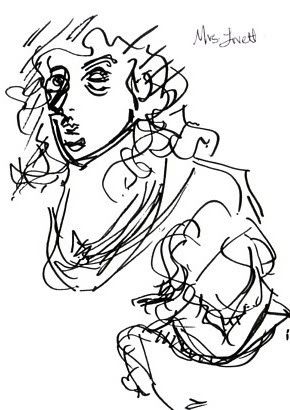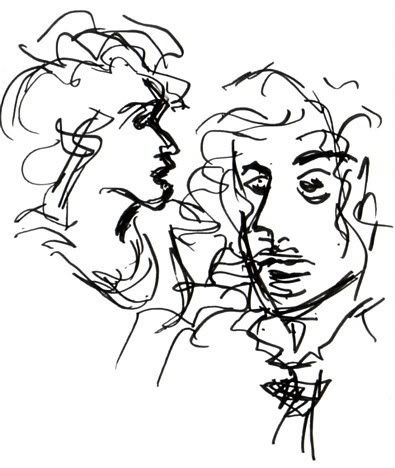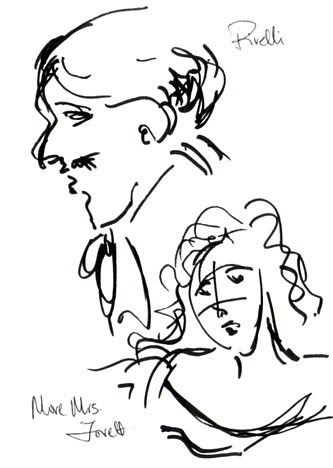 ...And then there was Violence and I had to concentrate, and that was the end of productive artistry for the evening.
Tonight, I took apart 2 inches of European 4-in-1 chainmaille after deciding I was not about to craft 7.5 inches of migraine no matter -how- much I love this friend of mine. I can do about the same amount of Byzantine weave in half an hour, and this took 4 hours, most of it spent taking it apart and putting it together again. As a result, out came the sketchpad again, and the Chinese calligraphy pens since I hadn't used 'em in a while. The result: I -really- need a lot of practice with those things.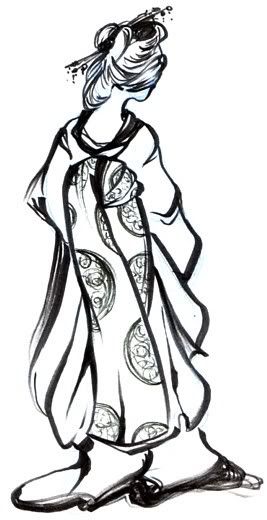 I can't wait for fencing class come Tuesday. Between that and the wirework jewellery (which I am still doing every day) I think that airport detectors'd have nothing on me when it comes to beeping out alarms for contact with too much metal.
Man, I really need to practice drawing some more too. How many hours in a day do I have again? Oh. Right. 24, not 56.
Drat.