One of my favourite people in the whole wide world happens to be a furstack. It's a bit complicated to explain, but suffice to say that a role-playing game involving large furry felinoids who shed, and punky, demons-fear-to-anger chicks produced an in-joke whereby the player of the felinoid was promptly dubbed 'Furstack' and has remained so for the past eight years. (I sent him fur in Kosovo, but that's another story.)
Just for my favouritest furstack in the entire world, this came about tonight. It took too long, it took too many corrections, I rediscovered the pain of doing pencil shading, it looks a ton better scanned, and it looks fantastic upside down - just less so the right way up. Why, I don't know. But this is Whisper in the Deep Shadows, or at least a pale representation of what he SHOULD be like: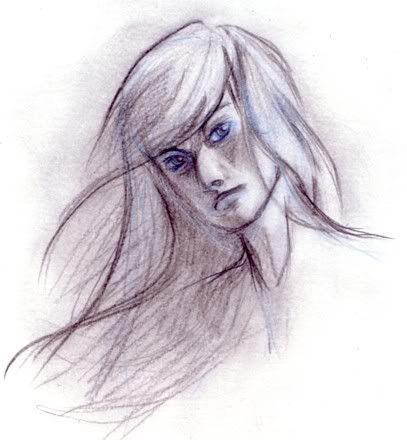 He looks a lot better as a Ball Jointed Doll, I promise. I don't have one, but I've seen one and it was the most perfect-looking Whisper imaginable.
Except for the fact that it cost over USD800? I'd have bought one just to drool over the perfection of the sculpting...
...which tells me I really need to go to bed. Like, now.