1) Swear you'll get to bed at a decent hour, because sleep is important.
2) Find a pattern for chain maille that looks so easy, an evening could see it done.
3) Resist.
4) RESIST! YOU SHALL NOT BE MOVED, nay, not even budged from your resolve! A pillar of stone, you are, to temptation!
5) You steadfastly put away your tools, only to pick up an o-ring here, a jump-ring there, and the flower chain is so -pretty-, what about adding something here to turn it into a bracelet and OOH LOOK SHINY ORCHID CHAIN...
6) The pillar of stone resolve is revealed to be a pillar of salt, and is thus Budged with Great Haste.
Which explains why it's 5am, and I'm still up, really.
But I finished the flower chain bracelet I was making as a present! The pictures are lousy, but at 4.30am, I'd be lucky to recognize a Dalek when I see it hovering up the stairs with a laser trained on my brain.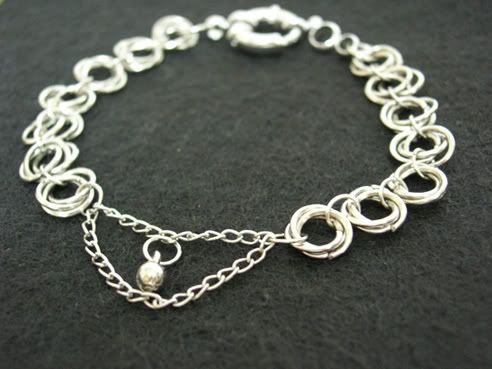 The weave is called Flower Chain, a design by Aderamelech which I found at http://www.mailleartisans.org. It's really lovely and quite easy, even if it's laboriously time-consuming in spots. Or maybe I'm just slow.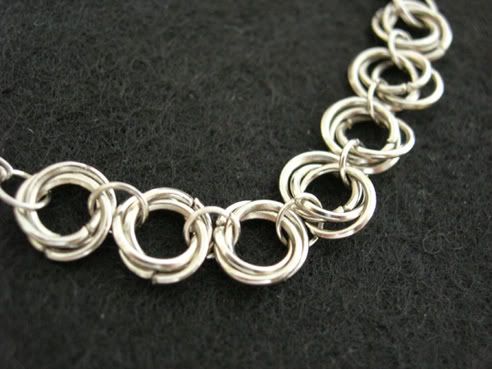 Detail of the chain.
One more pair of earrings to go but that definitely can wait till after sleep, or the world will have an irate, plier-wielding zombie on the morrow, demanding o-rings in place of braaaaaaaaaaaaaaaainz.