How in the world can a choke hold be so difficult to draw?
More specifically, when the person -giving- the choke hold is a few inches shorter than the intended victim - every picture reference I've Googled around for generally has the choke hold giver as -taller- than the poor chap they're trying to suffocate.
Times like this, I'm convinced I really, really don't know how to draw and should go for some classes one day but they'd probably toss me out for knowing -no- theory at all. Thankfully, I did find two photographs to sort of play around poses with, or I'd be sunk.
The subjects of the entire sketching rigmarole are two Abyssal characters for a random Exalted game a friend and I are playing - his is named Whisper of the Deep Shadow, and mine is the Pale Oracle of Dry Bones, known as the Pale Rider to everyone else. Oracle is taller than Shadow, and there was one instance where, on their first meeting, he sneaked up behind her and got her in a choke hold. Accursed height differences!
Anyway --here they are. I'm not proud of how long it took, but in the past I'd never even have been able to pull something like that off with any reasonable amount of success, photo references or not. So that's something I'm very thankful for - artistic improvement!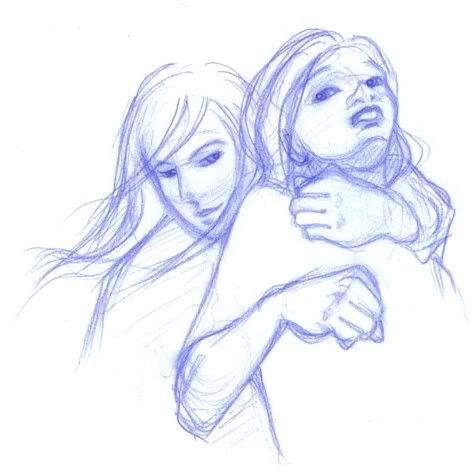 (Yeah I know. Two posts in one day. Miracle! Well, also, it's a public holiday. That's what I do on public holidays - nothing of consequence AT ALL. RAH!)