As if the New Year didn't have enough in store already, I ended up having to get an injection for my back yesterday so I could
move
without creaking into tiny pieces onto the floor. Though it was rather educational to see the look that poor doctor gave me after I explained that no, the muscle relaxant I'd tried and the two tablets of prescribed painkillers did zippo, nada, zilch for the pain. When I actually had to stop and think whether or not this was pain that could be classified as 'severe' - I have a very high pain threshold, if it's not debilitating, I don't consider it severe, usually - I could almost see the thoughts in his head: 'I've just found a masochist in my clinic for New Year. Just. My. Luck.'
To put it in perspective, one tablet of abovementioned painkiller takes away my migraines just fine.
And I did go to work today.
I suppose that's why I sketched this girl - because I felt as blue and as in shadow as she did in that photograph.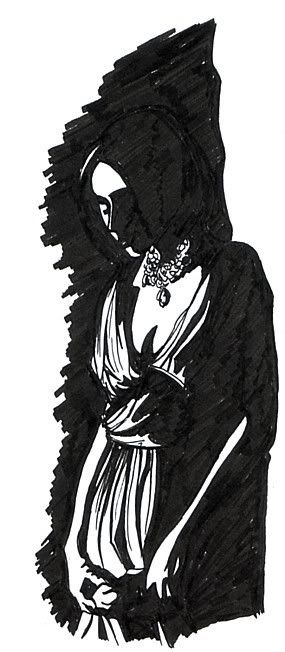 But as Marcos reminded me though, it's two double-oh seven. That's kind of nice to contemplate, as much as I love Casino Royale.
Tomorrow's going to be better. At least, I keep telling myself it will be. After all, there's always sketching.
And whelks.